A celebration of the know-how of the top luxury houses' couture ateliers, the most recent haute couture Fashion Week showed, once again, what French fashion knows best. Precious fabrics, meticulous embroidery, fabulous silhouettes: in the space of a few minutes, the shows revealed a huge amount of effort, combining an acute sense of detail with hundreds of hours of work. The proof times ten.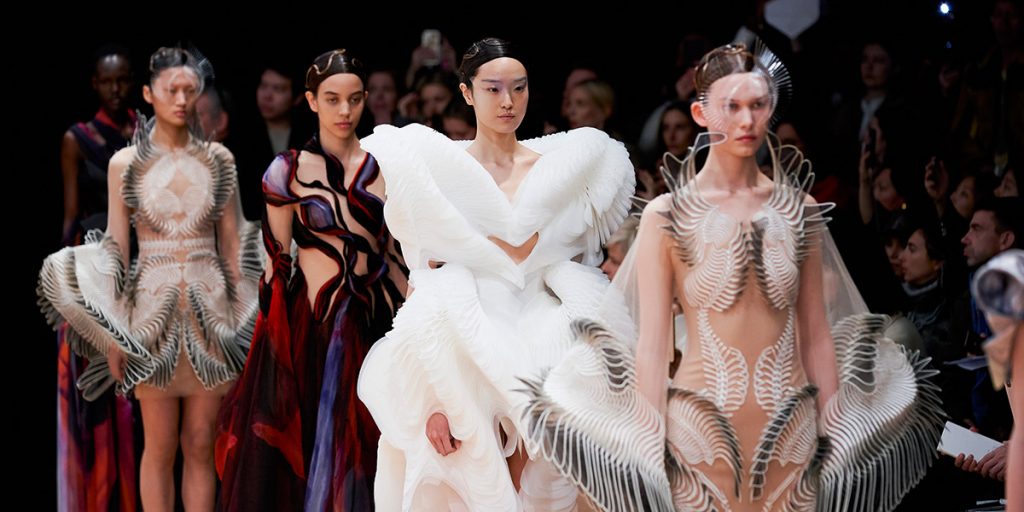 Valentino – Look number 72
Dubbed "RitaM., Salma, Stefano G.Rocco", look 72 from the Valentino show consisted of a honeysuckle pink faille cape with sportswear accents, worn over a strapless dress in aqua leather satin, blood orange and blush pink double cotton by a dazzling Kaia Gerber. A total of 1,100 hours' work were required to create this outfit.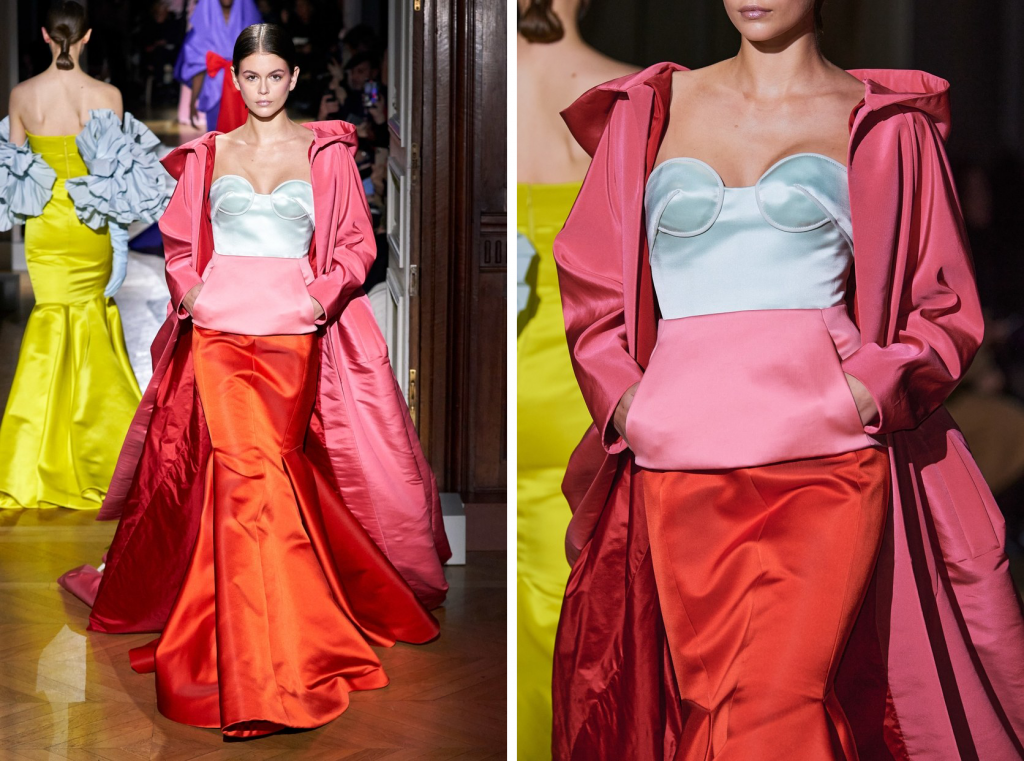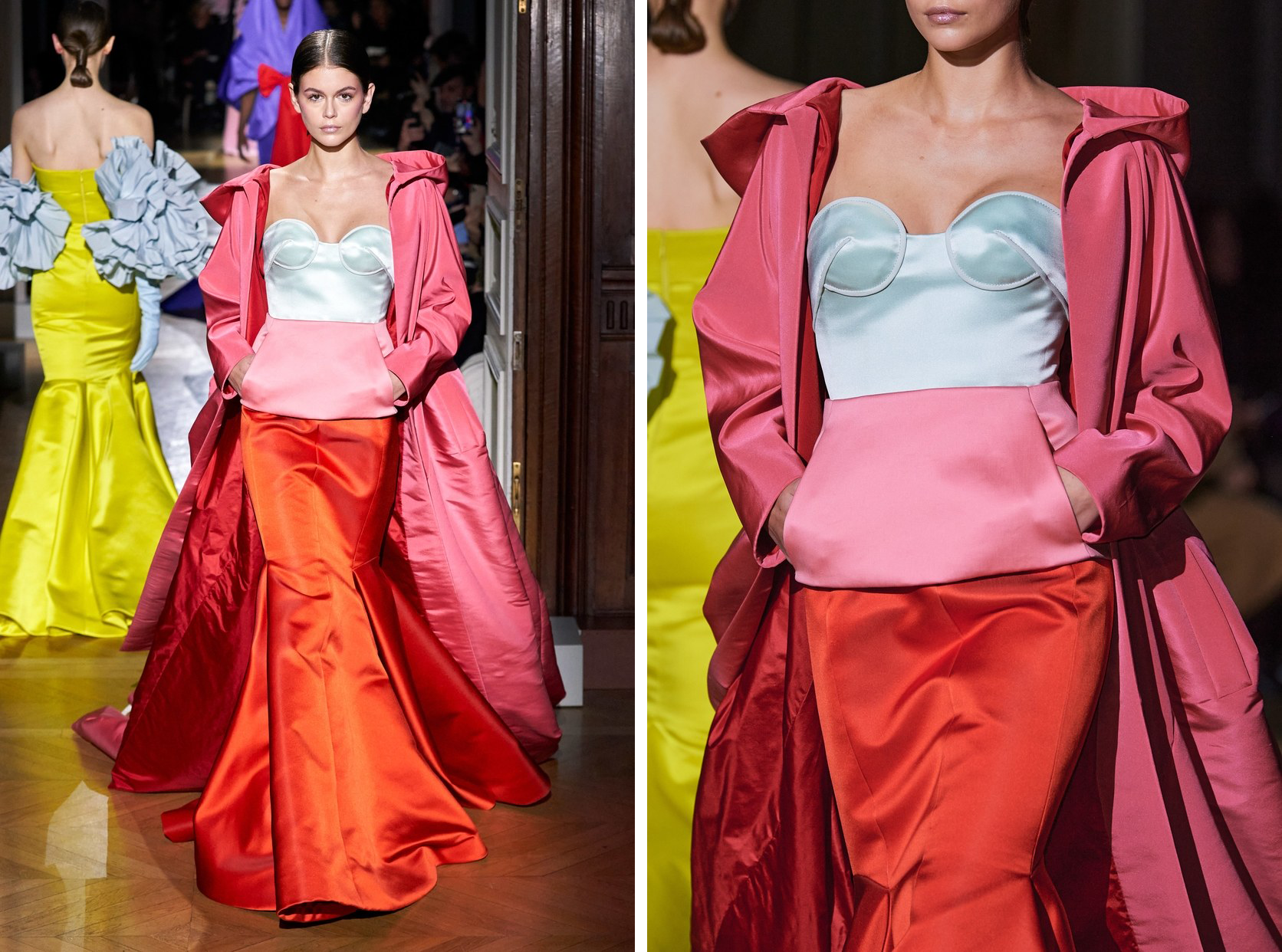 Chanel – Look number 51
This embroidered black silk organza ruffle dress is actually made of a sheer top embroidered with a "herbarium" motif created with over 10,000 sequins and a ruffle skirt embellished with 90,000 sequins and dried flowers set in layers of silk organza. Crafted by the Montex atelier, the embroidery added in the making of the dress required 1,720 hours' work in the workshops.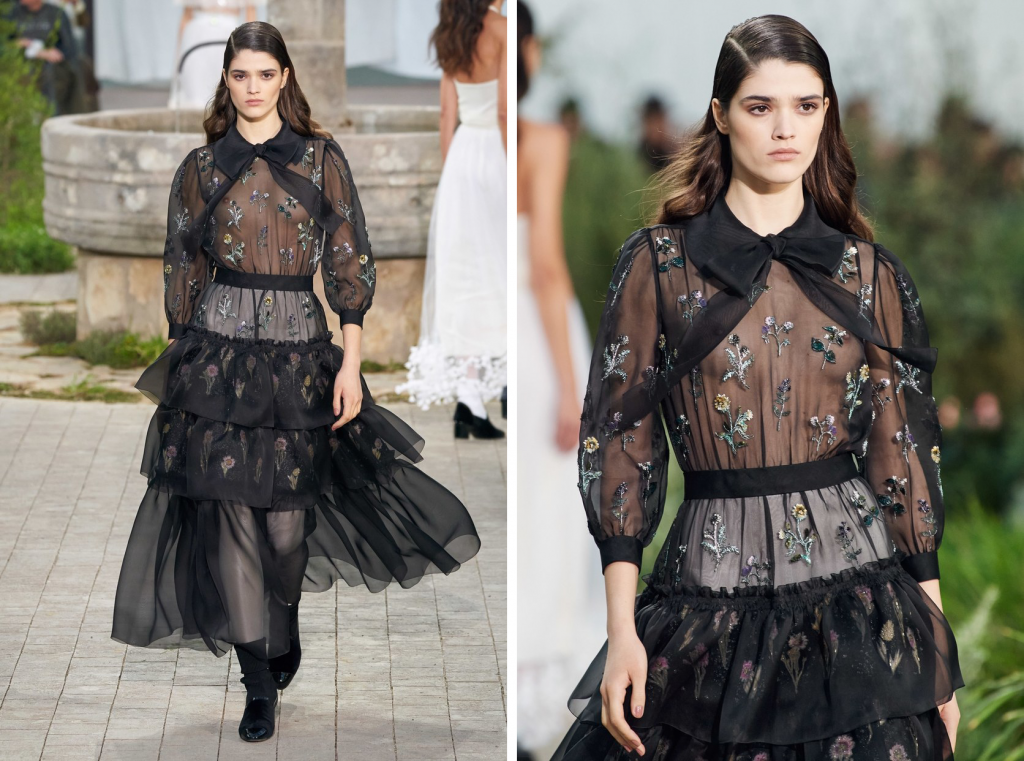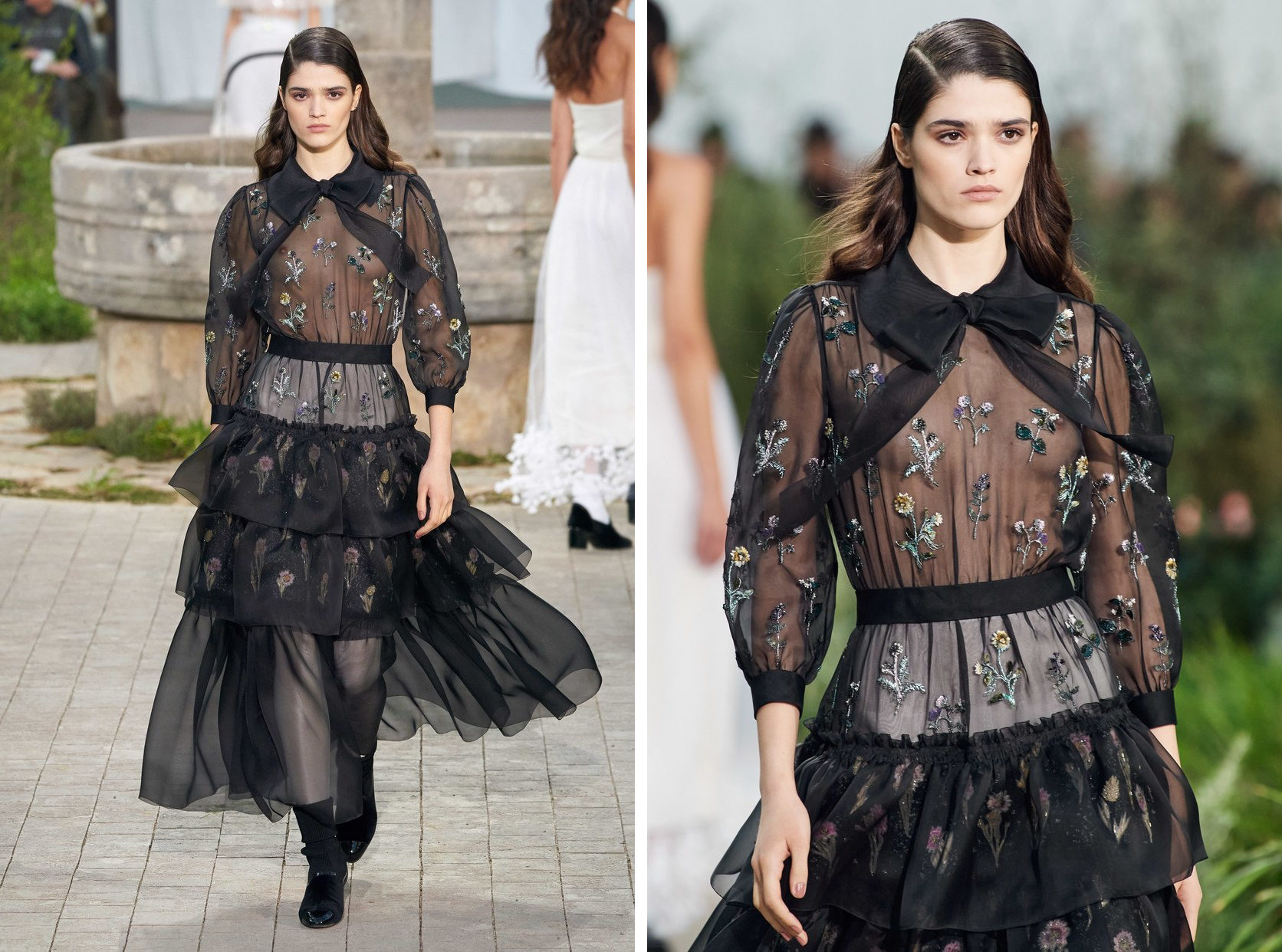 Givenchy – Look number 17
It's hard not to be enchanted by this asymmetric Iris dress in pleated silk organza, entirely hand-painted in an indigo, lavender blue and imperial yellow gradation. We note the attention paid to accessories with the pompom earring in silver-toned metal and diamanté with ombré purple fringing, as well as clear stilettos worn with nude micro-tulle stockings. This extraordinary creation required over 1,200 hours' work in the workshop just to prepare the pattern's pleated panels for cutting and assembly. Something unheard-of!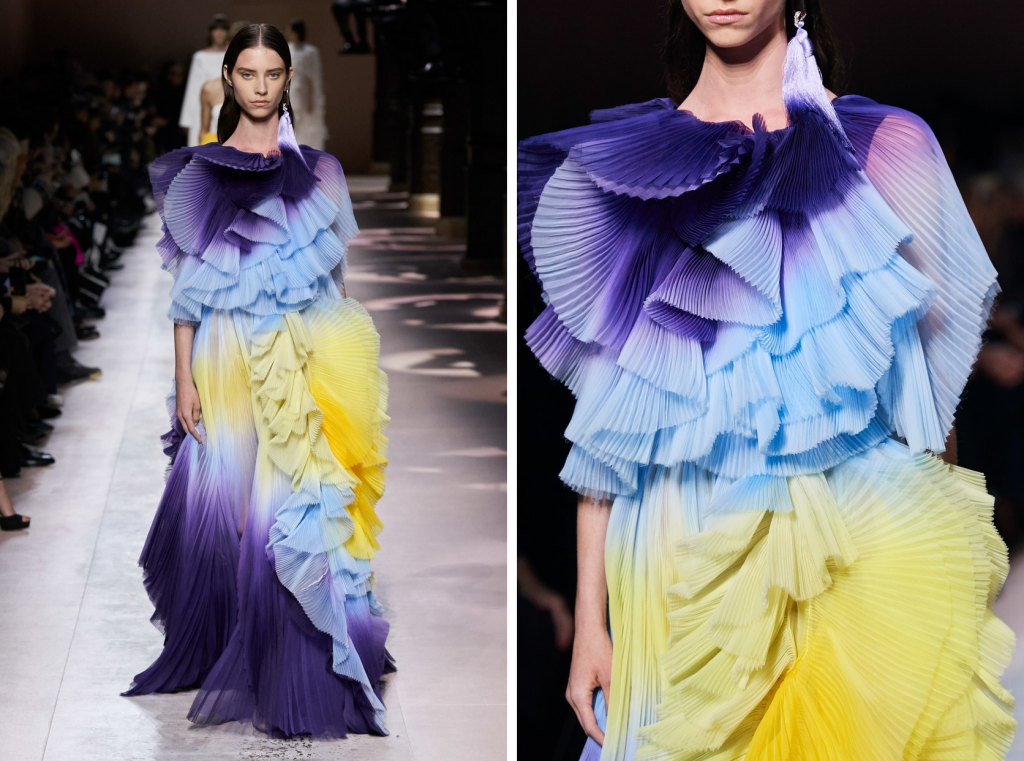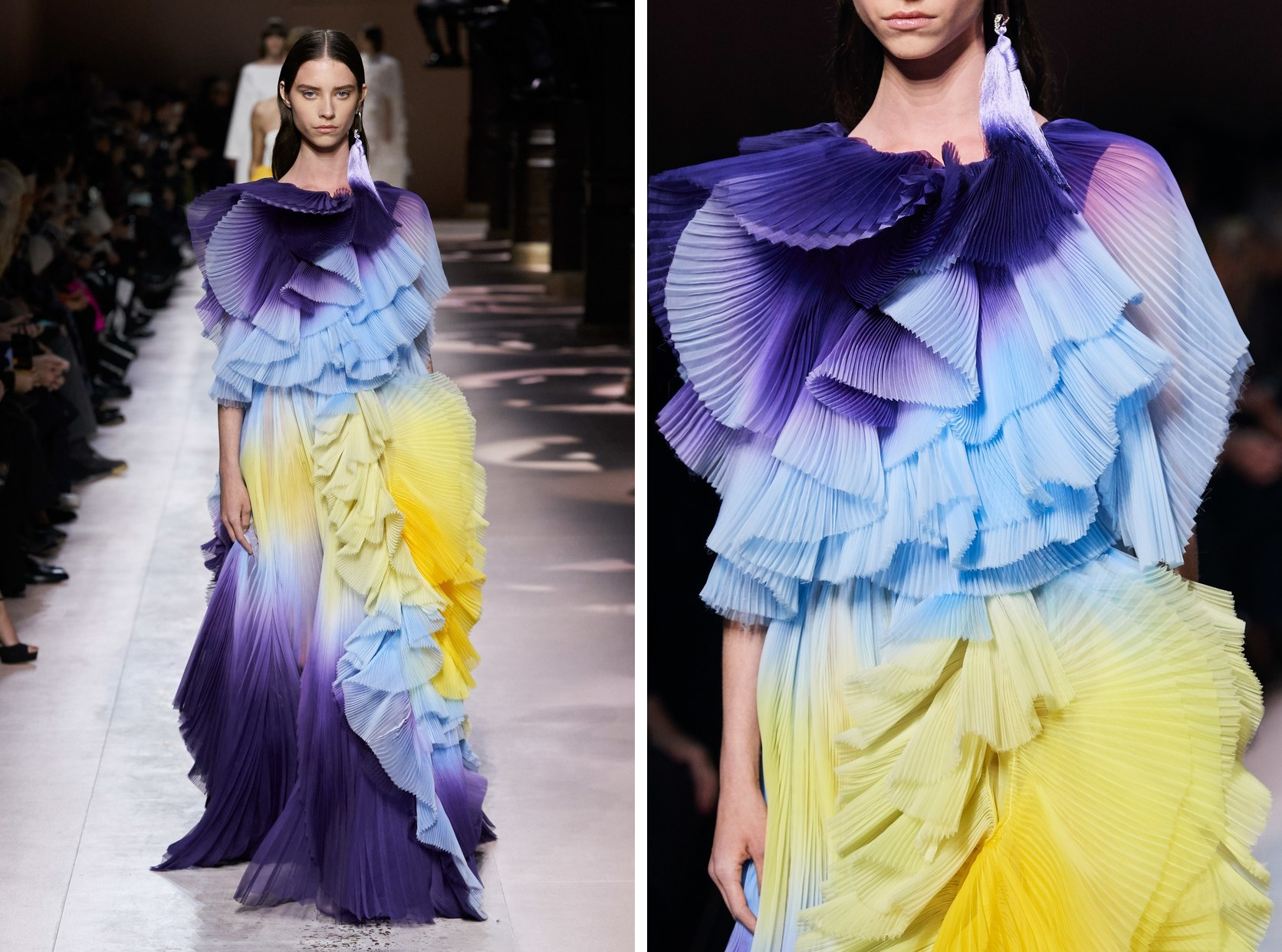 Dior – Look number 48
We love this tulle dress decorated with appliqué lace motifs and inlaid lace used as an invisible seam to join the bodice, skirt, cape and back. An all-embroidery look that demanded 1,500 hours to make, 140 metres of seven different types of lace in three unique colours and the talent of seven different people.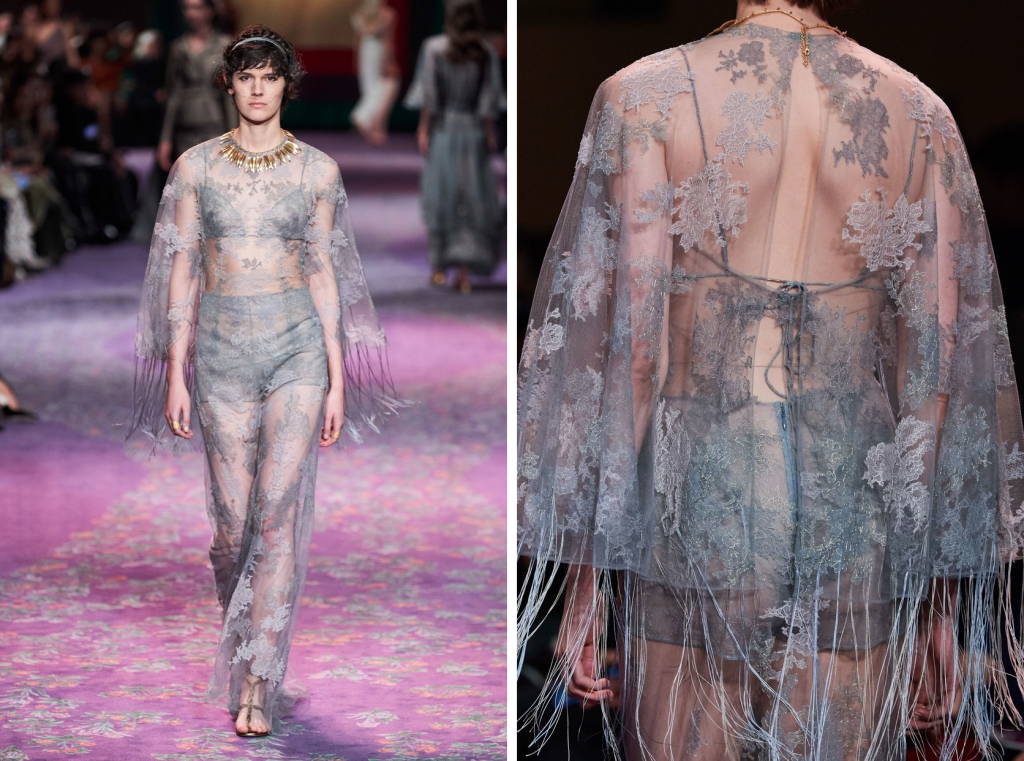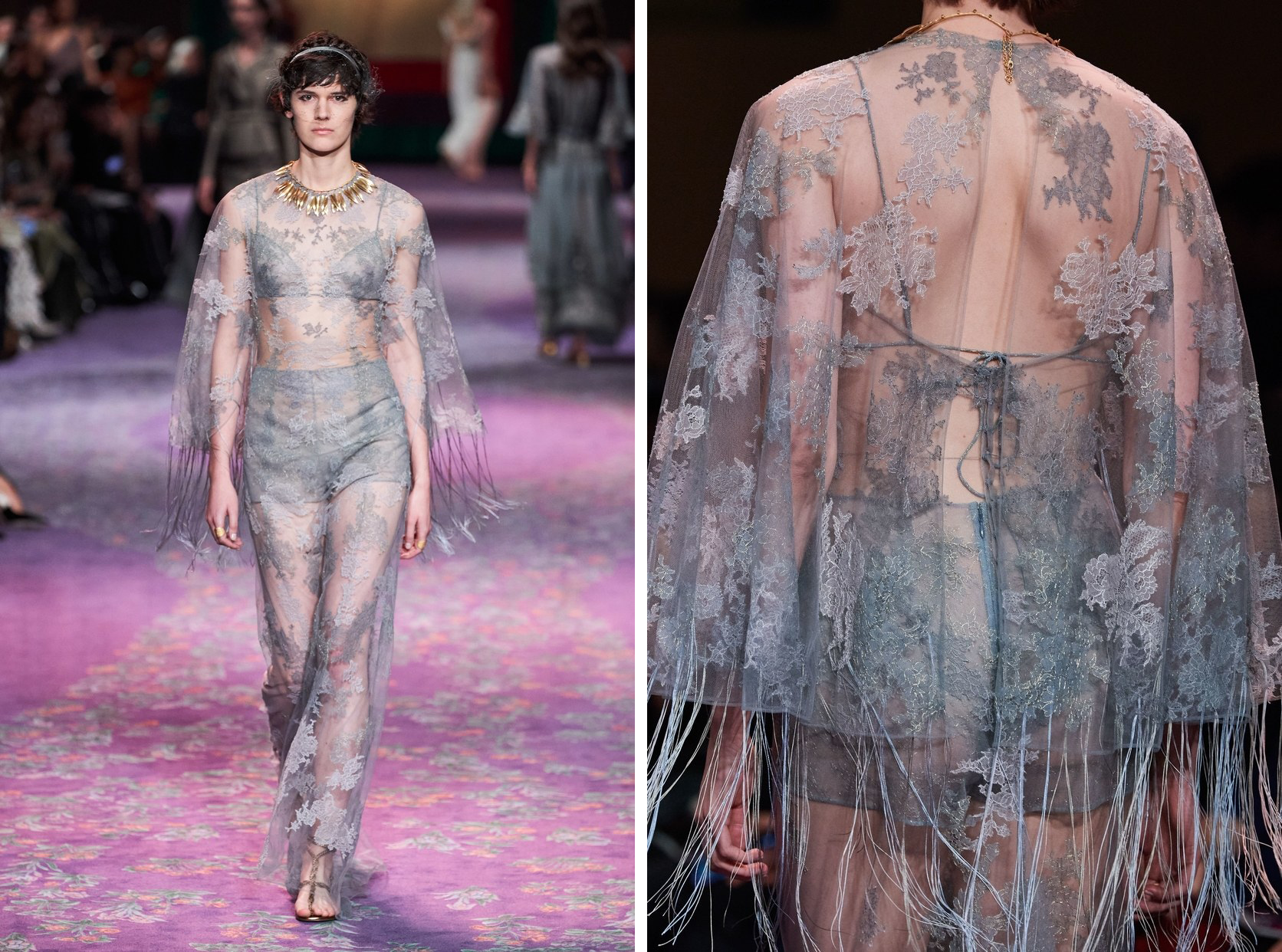 Giambattista Valli – Look number 31
For this draped and multi-frill ballgown in "citron" tulle, all the frills were stitched one by one, adding up to 360 hours' work and over 400 metres of tulle. A real feat of craftsmanship!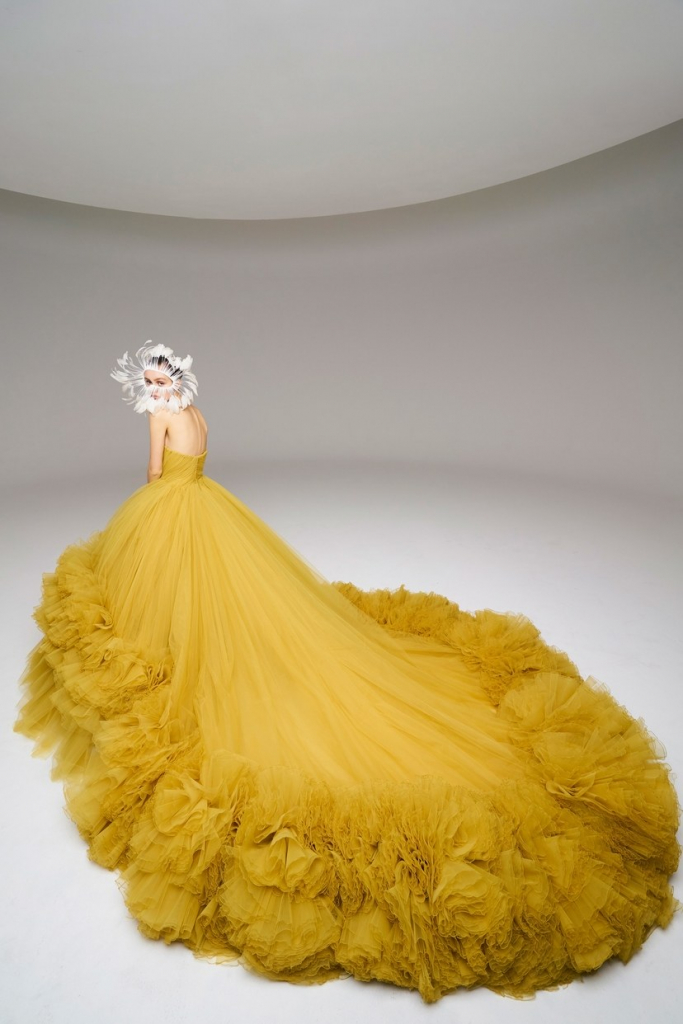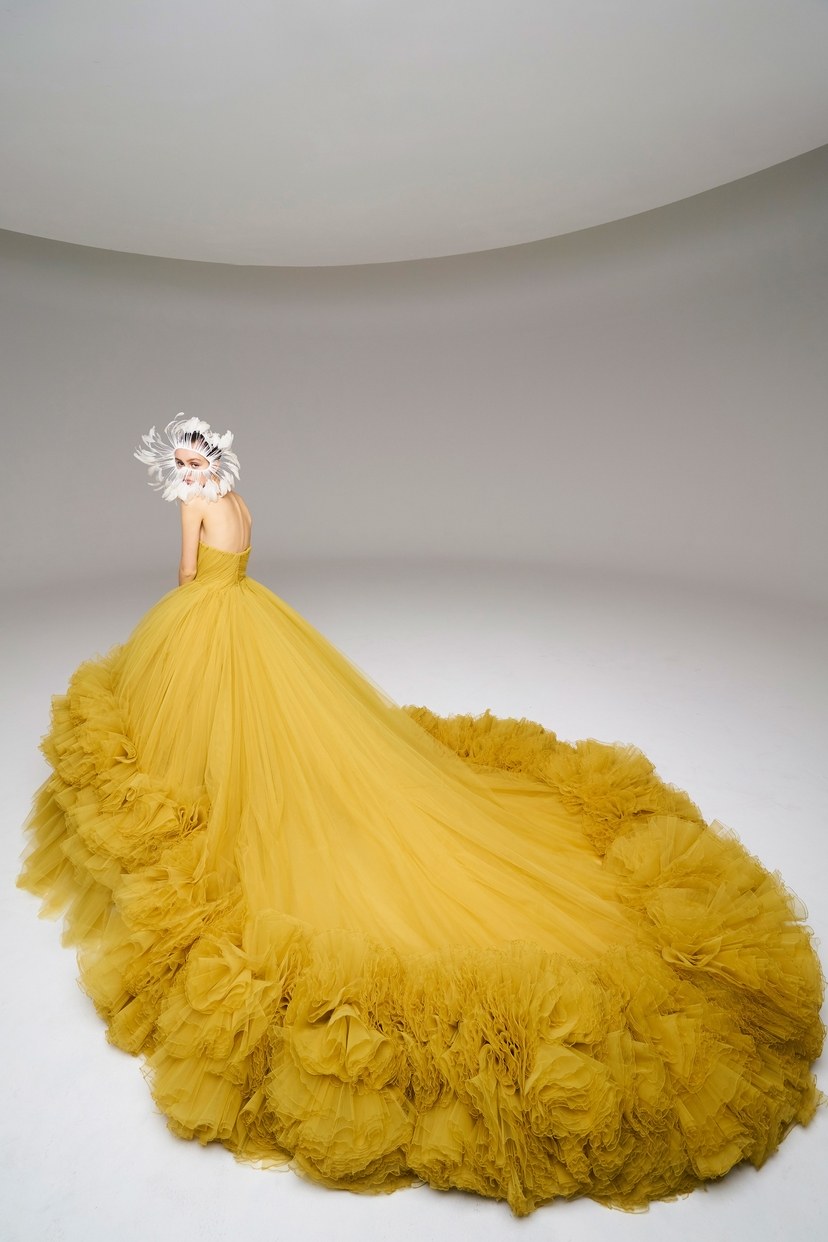 Iris van Herpen – Look number 19
Dubbed Morphogenesis, this dress was designed on the basis of depictions of geostrophic turbulence using 3D twisted vortex models created in rhino for the garment's accordion structure. The abstract shape is thus composed of over 1,000 individual fine mesh layers, each with its own numbered shape, spaced 3 mm apart and meticulously positioned by hand. Each fin was also hand-cut, connected individually and adorned with 36,000 minuscule laser-cut transparent chevrons. Each layer was then embellished by hand with a grid of minuscule transparent chevrons, creating infinitely flexible shapes that can expand and contract around the body, like a sensory ebbing and flowing sea. This piece took 90 days to design, while the garment's construction lasted 100 days and involved four people.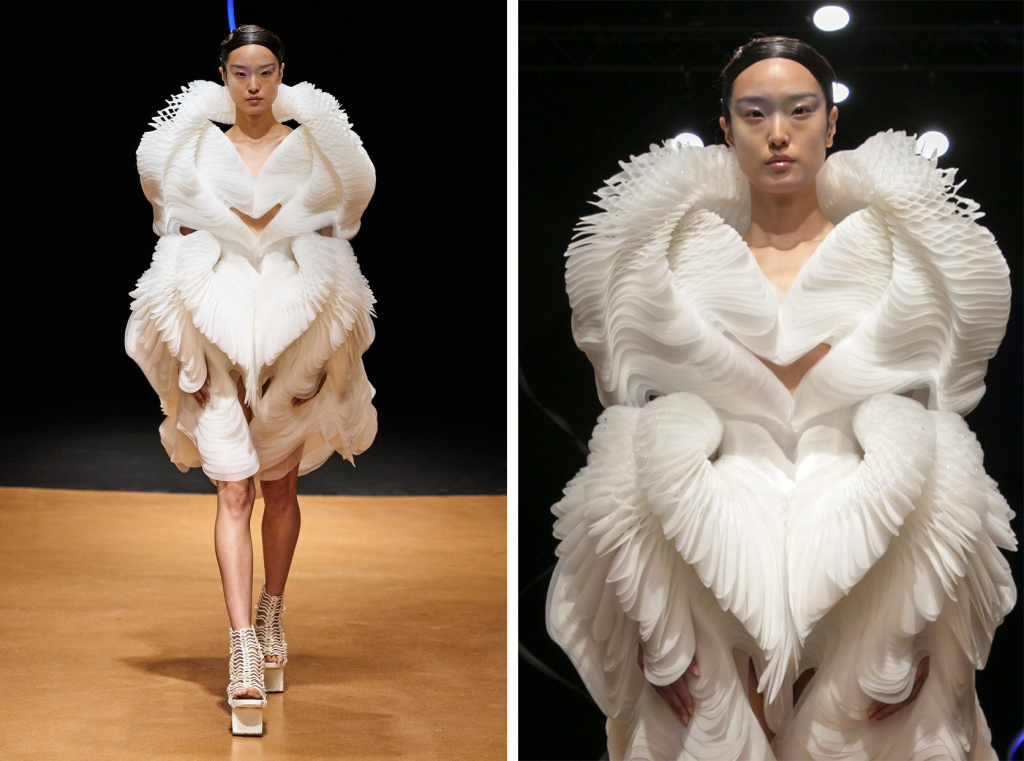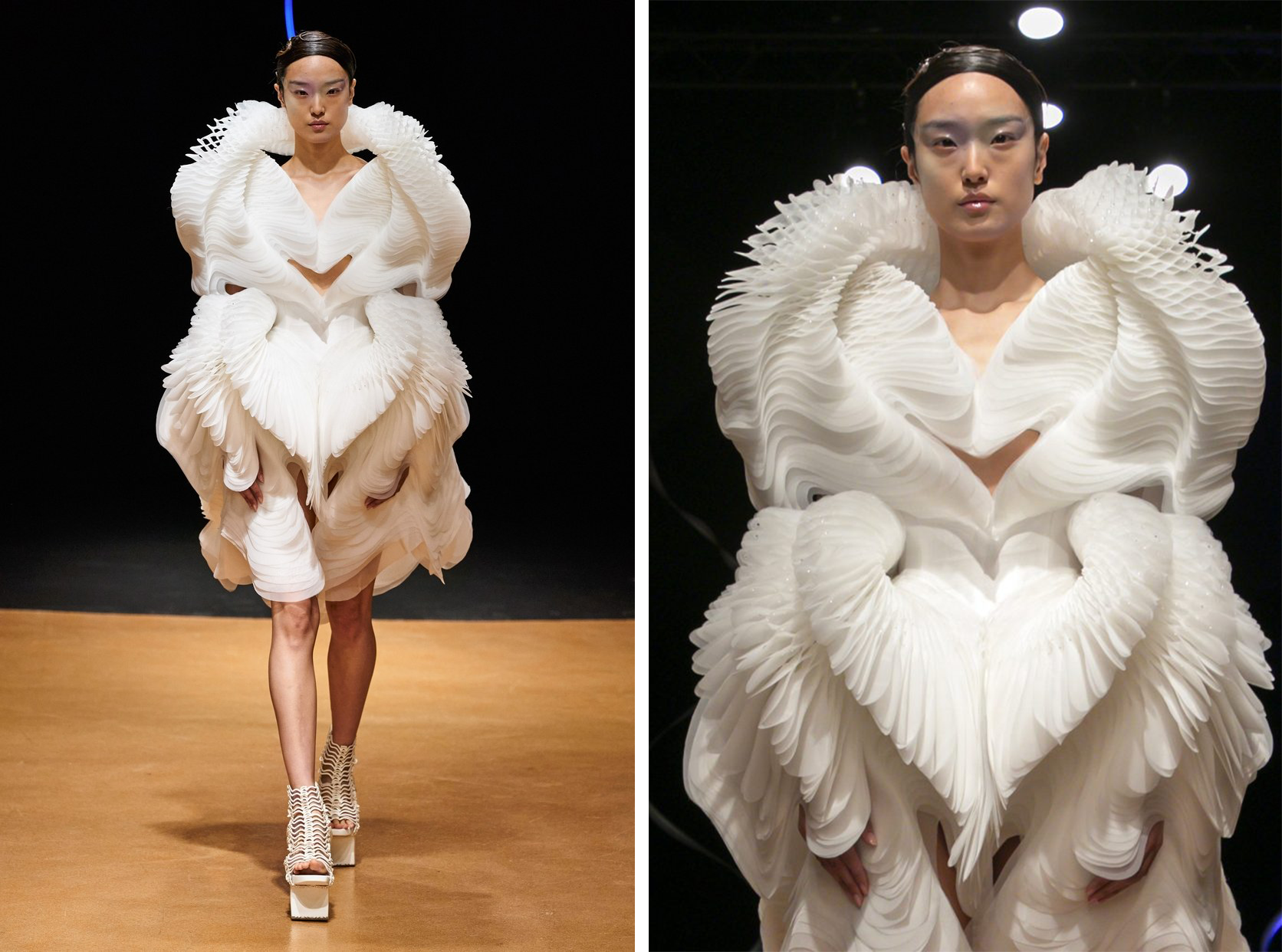 Schiaparelli – Look number 24
This extravagant suit with a double-breasted jacket embroidered with snow leopard-effect bugle beads required 300,000 beads (15 kg for the jacket and 8 kg for the trousers), 1,000 hours' embroidery and 250 hours to make. A real effort!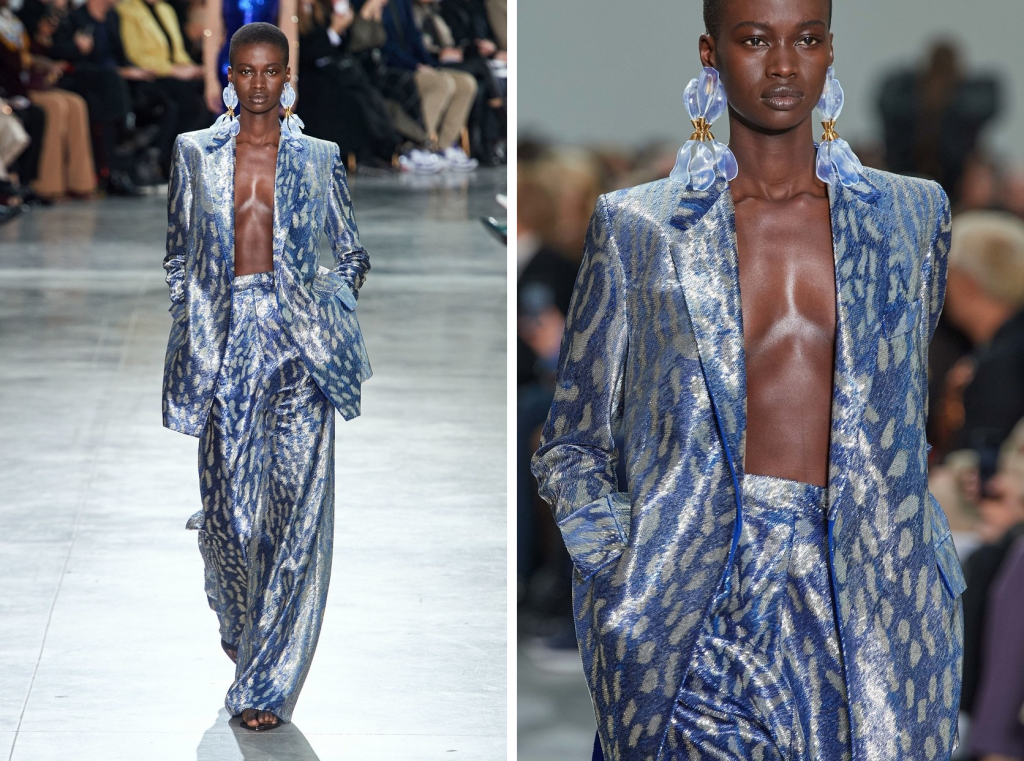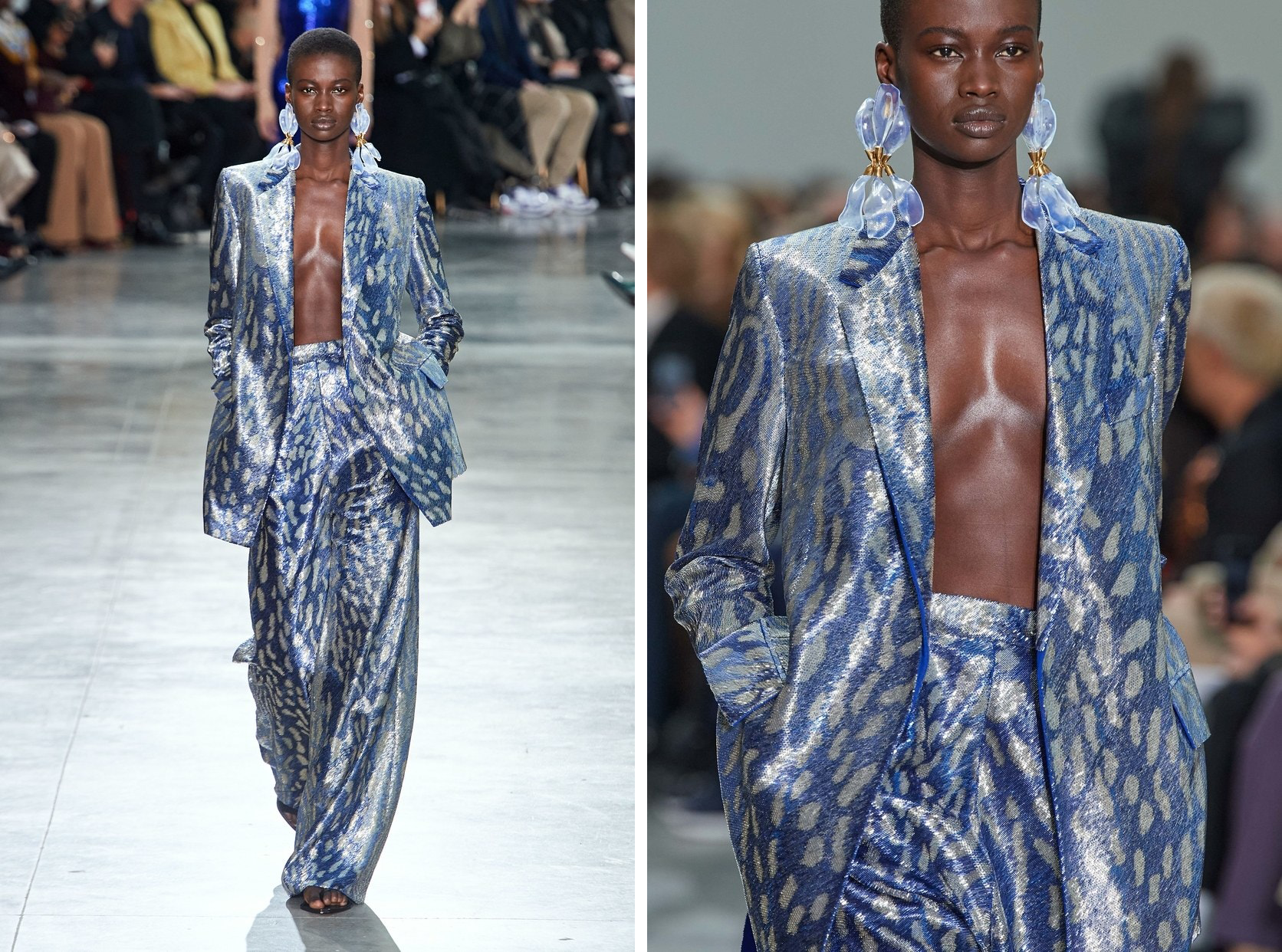 Elie Saab – Look number 1
This bold regal look combines a short tulle dress – entirely embroidered with pearl-coloured silk thread and golden sequins – with a train measuring several metres. This design took three months to create, 12 metres of embroidered tulle (including 6 metres just for the skirt) and the work of six embroiderers and three seamstresses.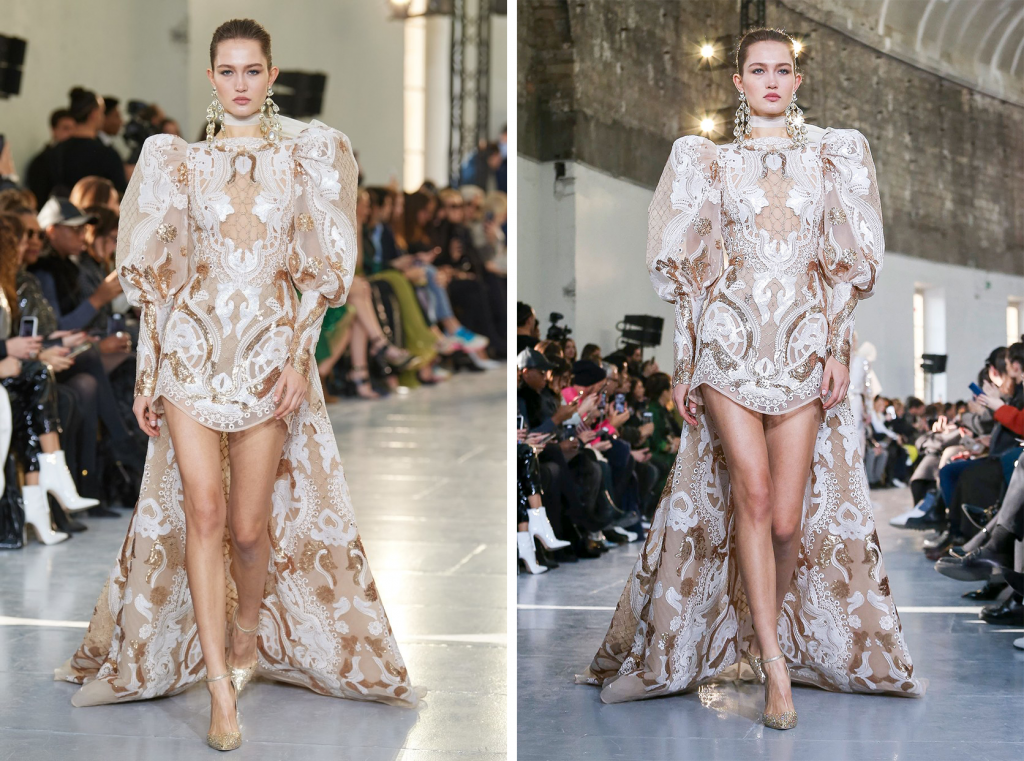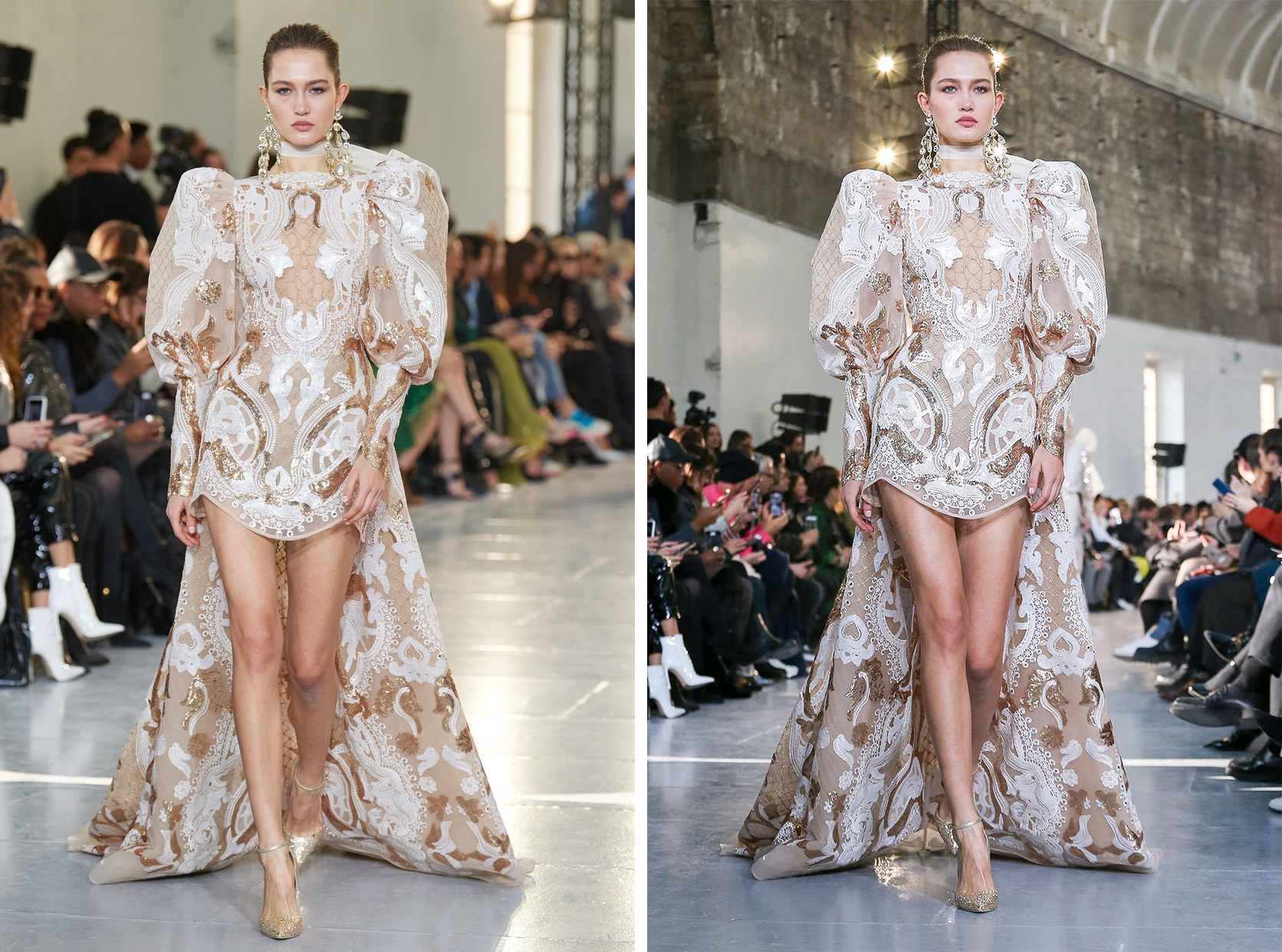 Zuhair Murad – Look number 1
The sheath skirt and sun-coloured cropped top with a "wesekh" collar were inlaid with multicoloured gemstones and hand-crafted Egyptian motifs. A remarkable outfit that took ten people almost 124 hours to create.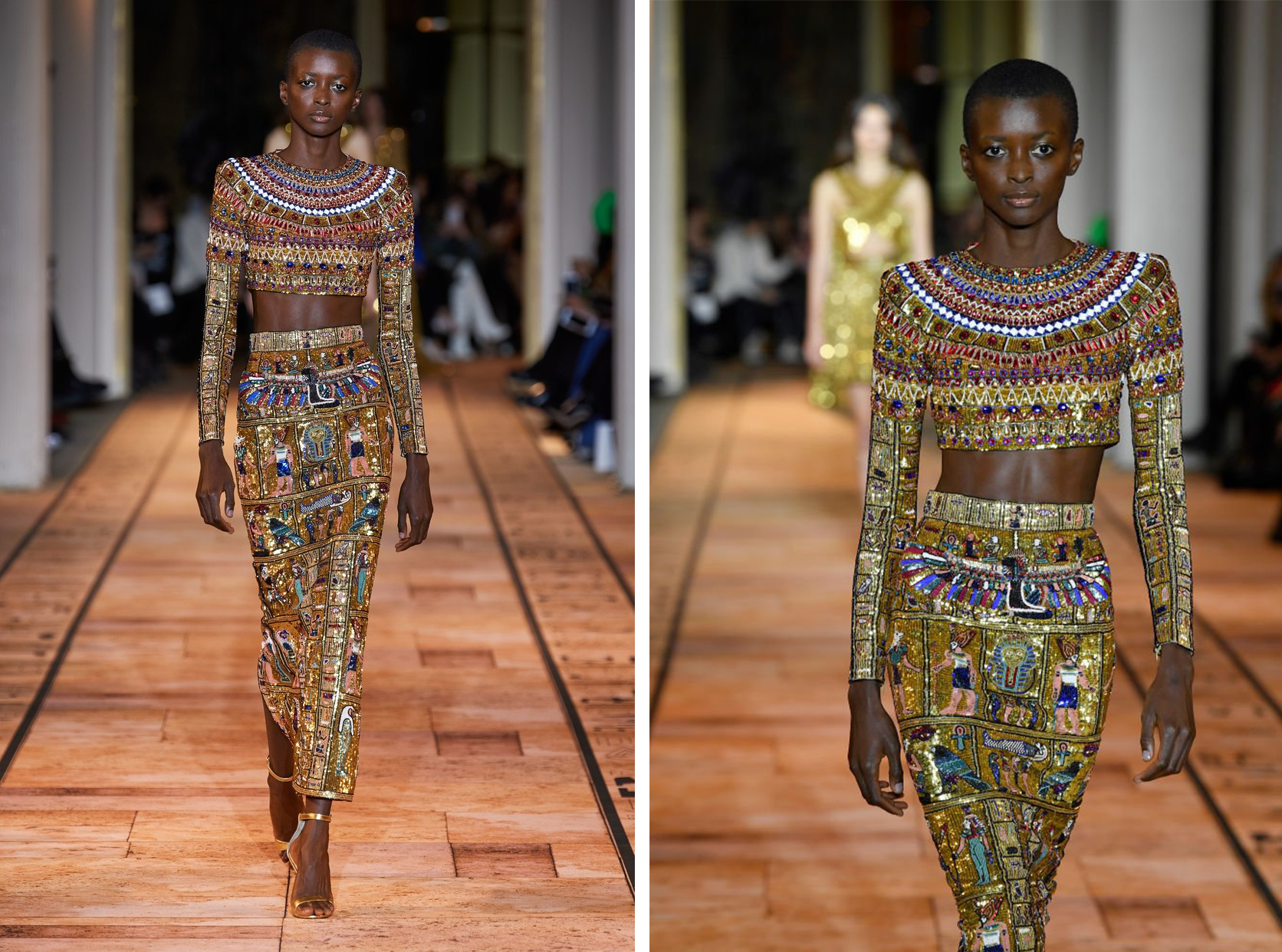 August Getty Atelier – Look number 3
Christened "The guardian of the forest", this outfit was crafted from hand-made metal petals and sewn on a golden cloqué fabric handwoven in Italy. An extraordinary design that required four weeks' embroidery, followed by three weeks' sewing and assembly by six people in the Paris workshops.