As a talent spotter and expert in new trends, PROMOSTYL comments on and analyses the latest SS20 trends presented by young Chinese brands during Shanghai Fashion Week. Inspirations, star pieces and key details: a review of these collections with a restricted yet nonetheless (very) definite influence.
TRANSPARENCES
This season, designers are playing with transparences featuring tulle, organza, voile or gauze fabrics to showcase ultra feminine silhouettes thanks to fluid volumes. Fabrics seem to be filled with air, renewing dresses into mysterious floating objects, letting undergarments appear to our sight and playing with nudity.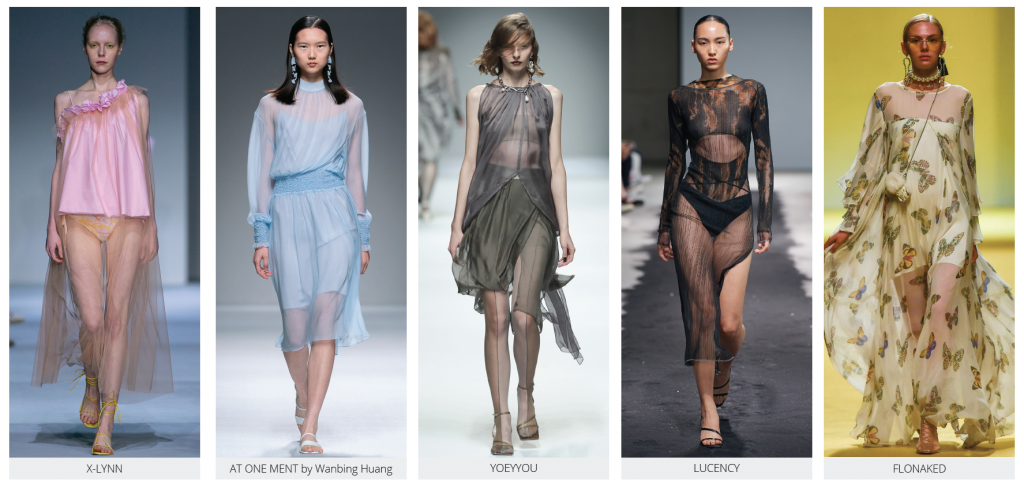 THE TRENCH
Trench has been a hit piece throughout SS20 season; being renewed, deconstructed or re-assembled on multiple looks. This orignially army-officer technical garment is now given a modern twist, blurring the codes to showcase hybrid silhouettes mixing the aesthetics: thanks to silk, nylon or check patterns and by combining unusual but­tonned-up volumes and oversize belts. A unisex ultra-modern must-have of Shanghai Fashion Week as well as its counterparts.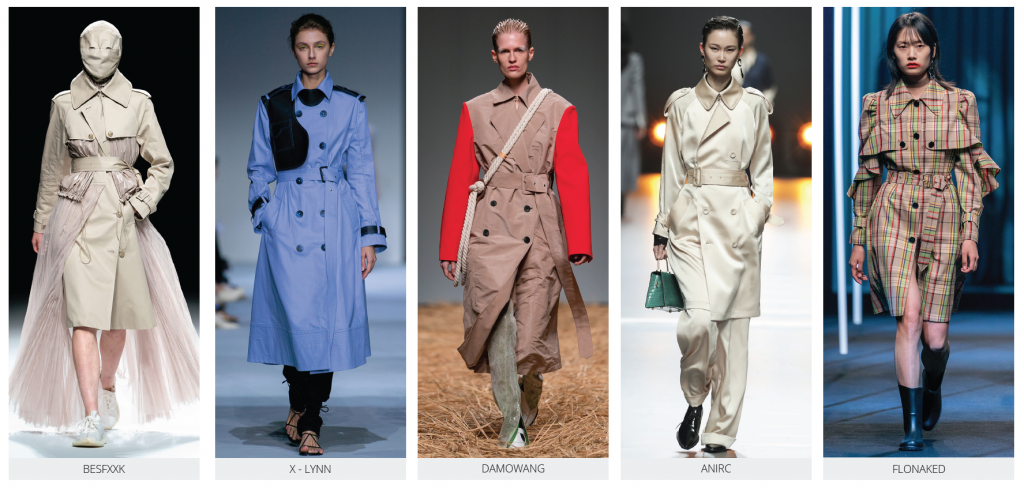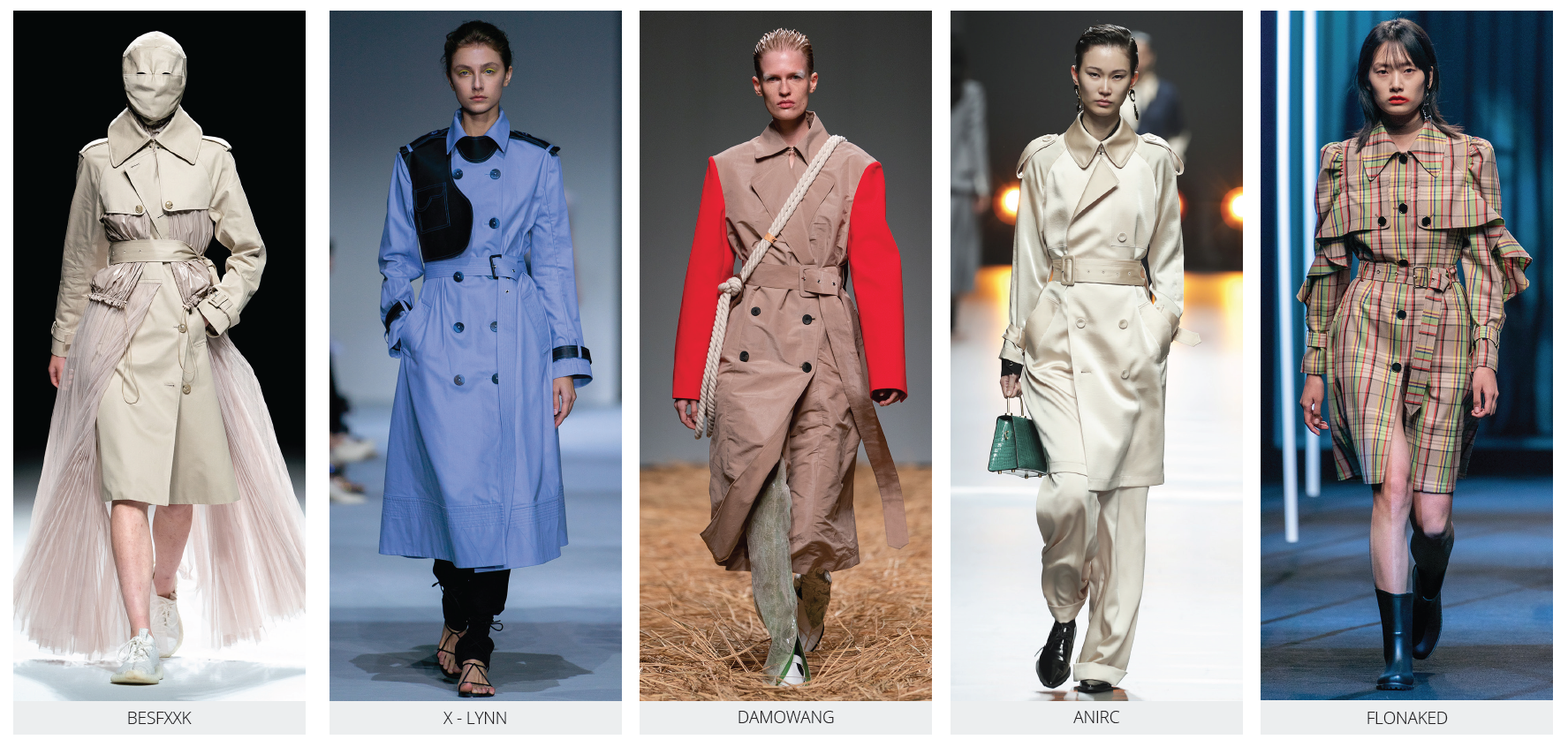 EXTRA BIG 80'S SHOULDERS
Renownd 80's-style suit cuts are coming back this season showcasing dramatic and powerfull padded shoulders, exaggerating proportions on streamlined silhouettes. A fierce aesthetic empowering women's closet with supersized volumes playing with textured fabrics such as lurex, sturdy cotton, linen blends and fringed bold patterns.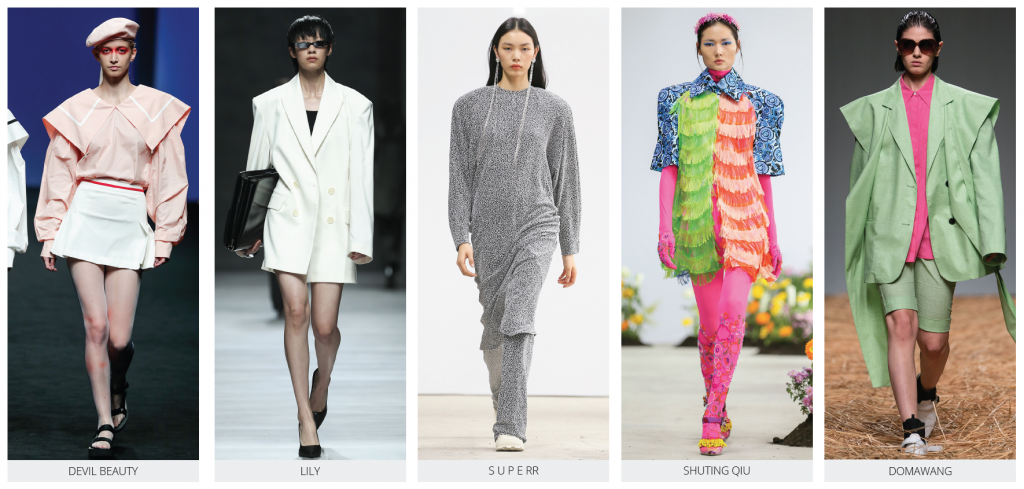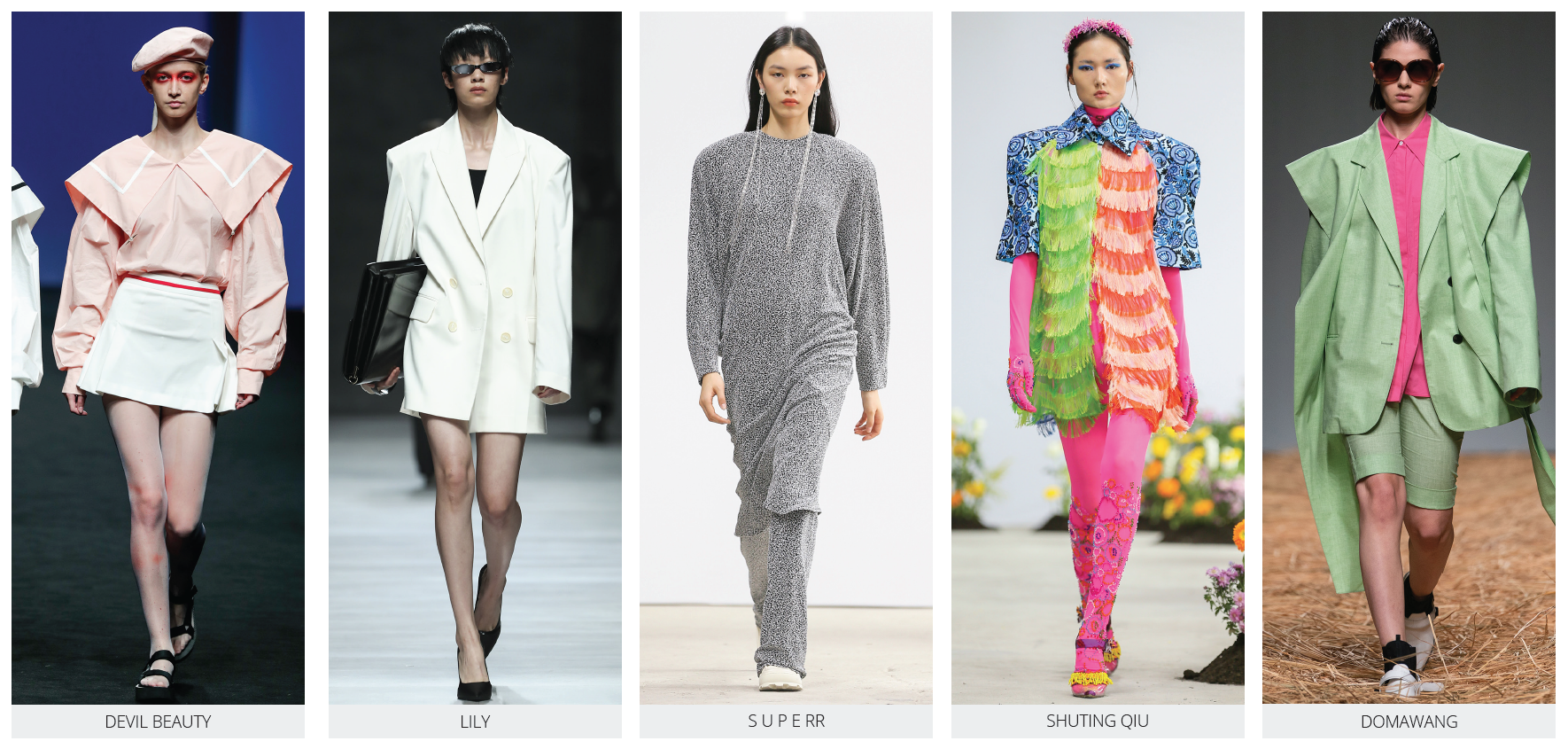 LIGHT SATIN
Summer satin is celebrating femininity thanks to light reflections and pastel colors, coming on fluid and delicate suit jackets, renewing modern kimono-cut looks and even on hybrid pajama-style silhouettes. A studied play of body-skimming yet flowy shapes combining comfort with cushiony shines.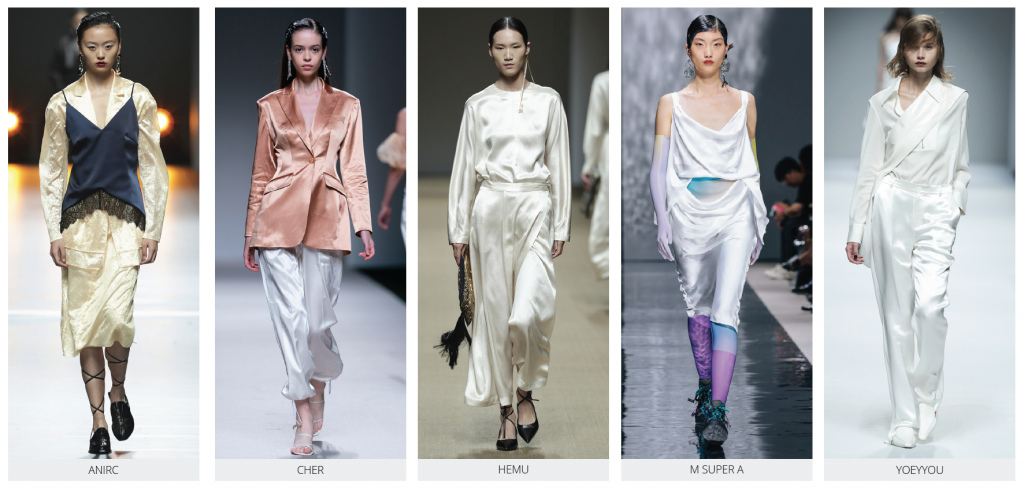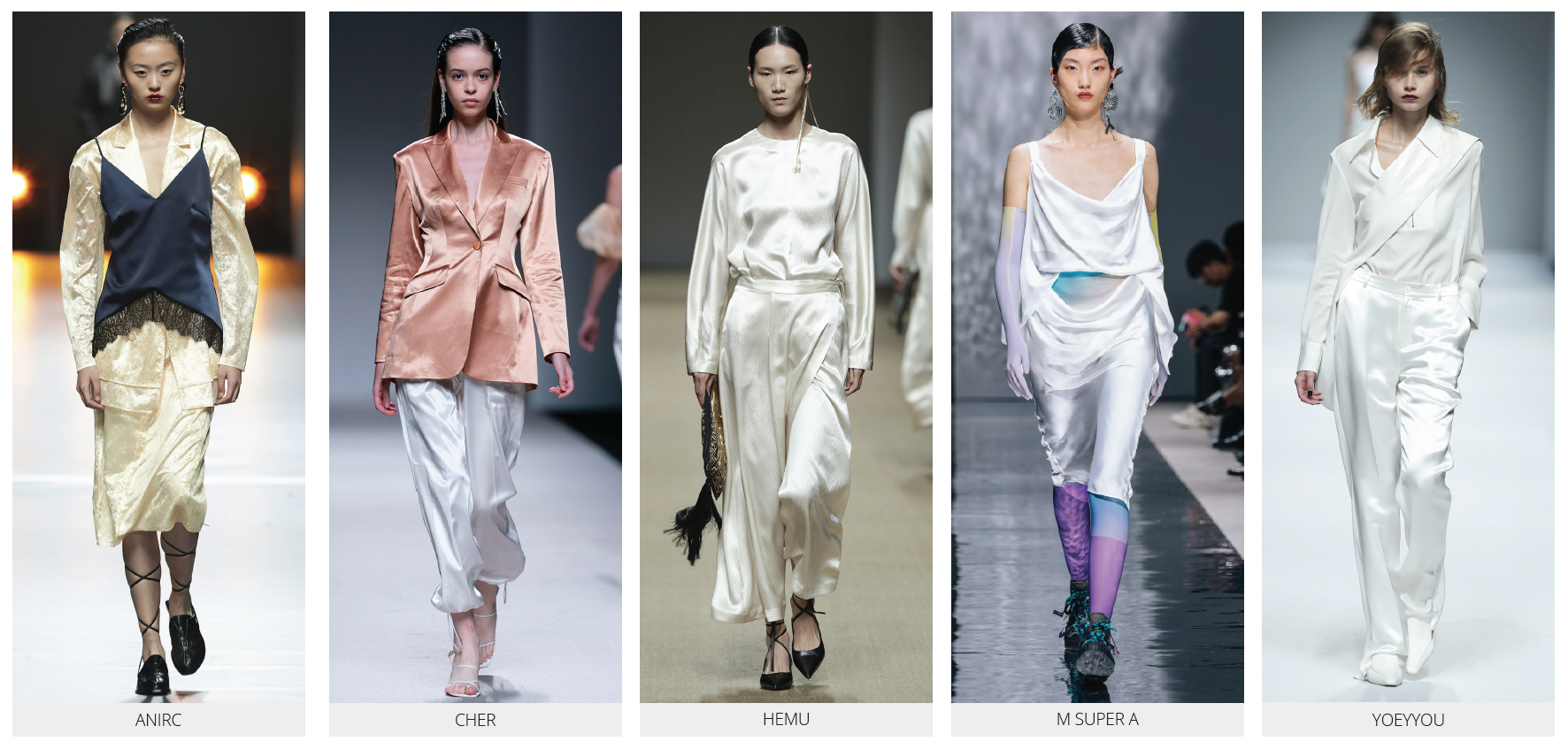 SHINY TOTAL LOOKS
Shimmering, glowy effects are coming all-over this season showcasing sequins, shiny nylons and ultra-glowy satins to play with light reflection and visual effects . It's crea­ting a futuristic impulse on both feminine or sporty silhouettes, like a hybrid disco ball or futuristic creature.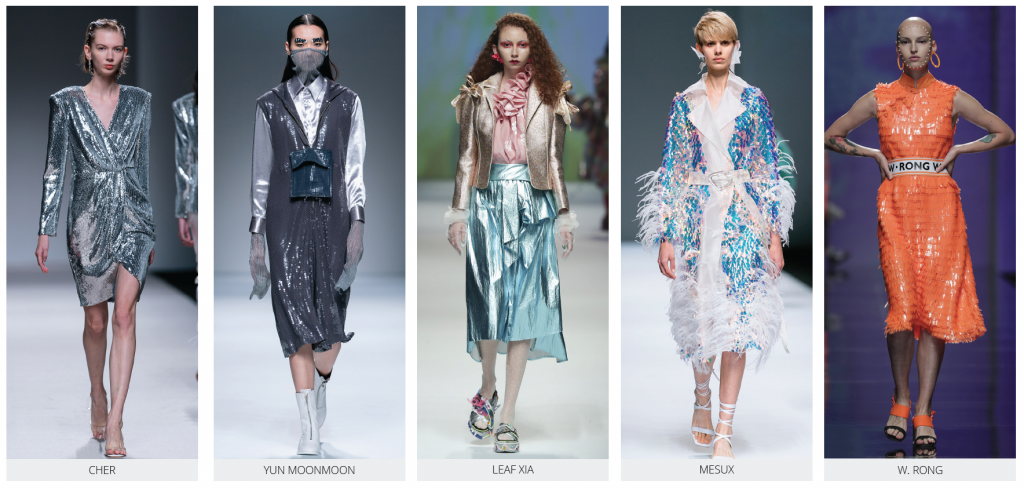 FUNNY MIX & MATCH
Mixing aesthetic, patterns, fabrics and cuts is a striking trend of the season; combining arty color-block patterns with ruffled tulle or long-sized parka-style garments. It's all about a miss-match of multiple pieces to create ultra-cool arty silhouettes.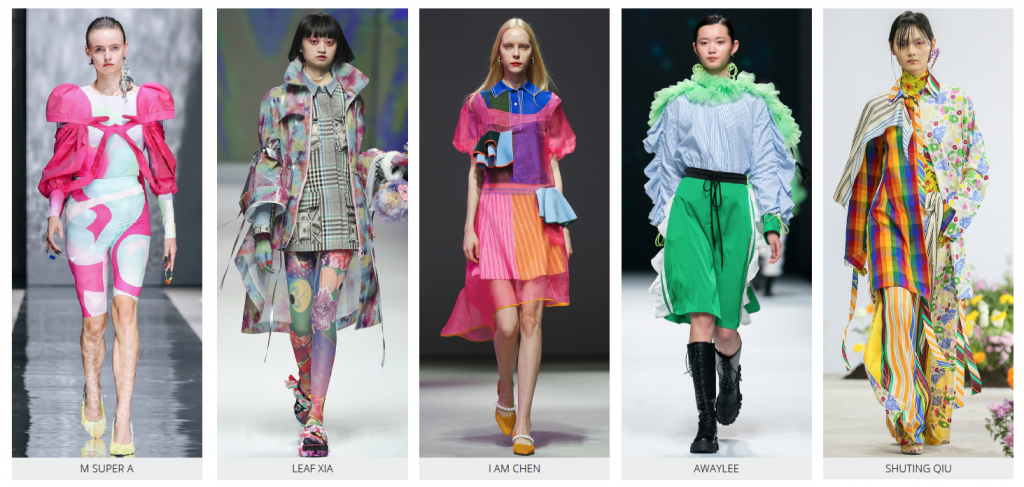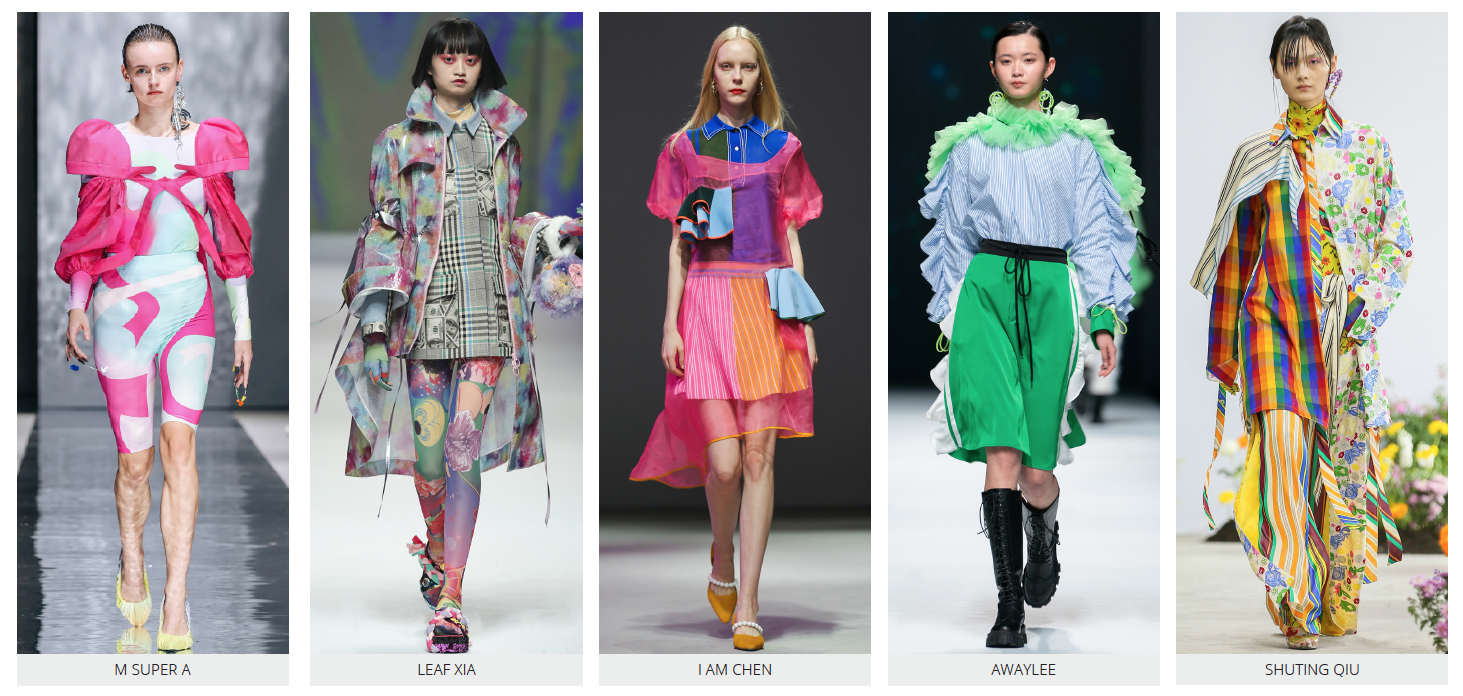 OFF-SHOULDERS
This season, designers want the shoulders out, showcasing exquisite femininity and playing with volume. Fabrics are wrapping the body thanks to elasticated or but­toned-up features, letting the volume pop up on the sleeves to romanticize silhouettes.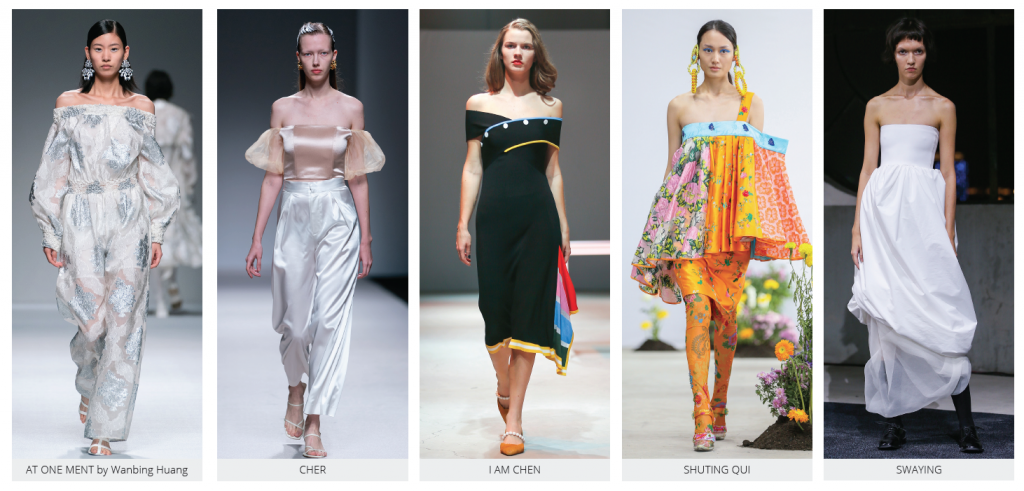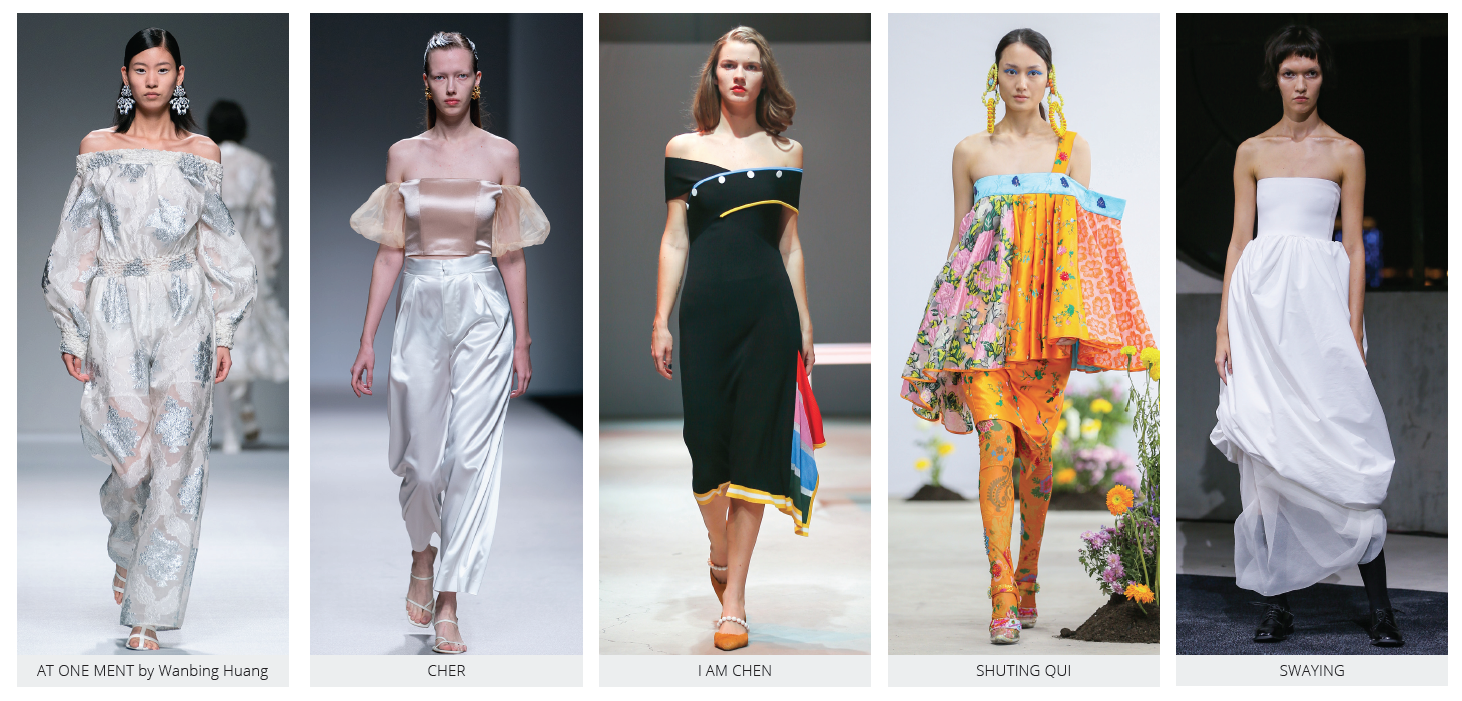 FEATHER TOUCHES
Fluffy and frilly feathers are coming on garments, decorating silhouettes with ruff collars at Yun MoonMoon, or embellishing looks on garments' finishes and coming as beautiful embroideries on dresses. A swan-like women showcasing a modern romance by mixing feathers with trousers and chunky leather shoes.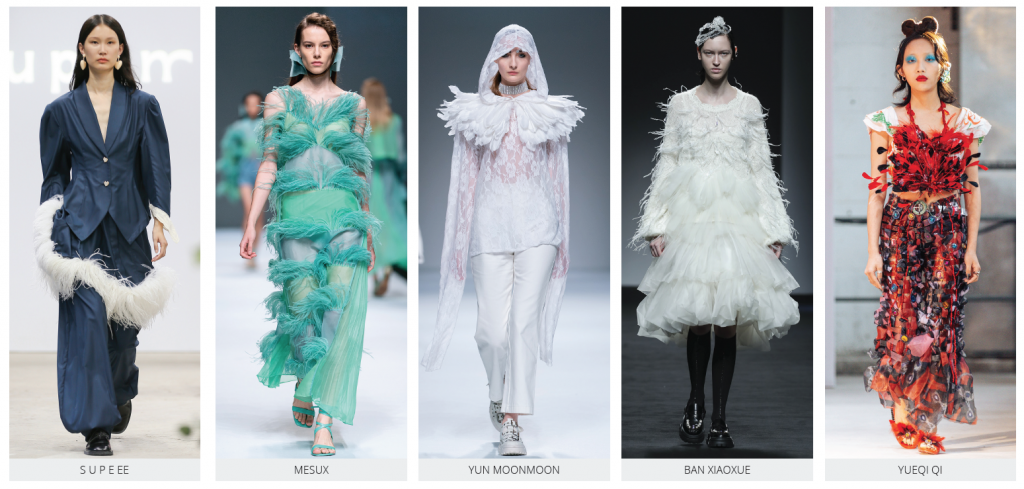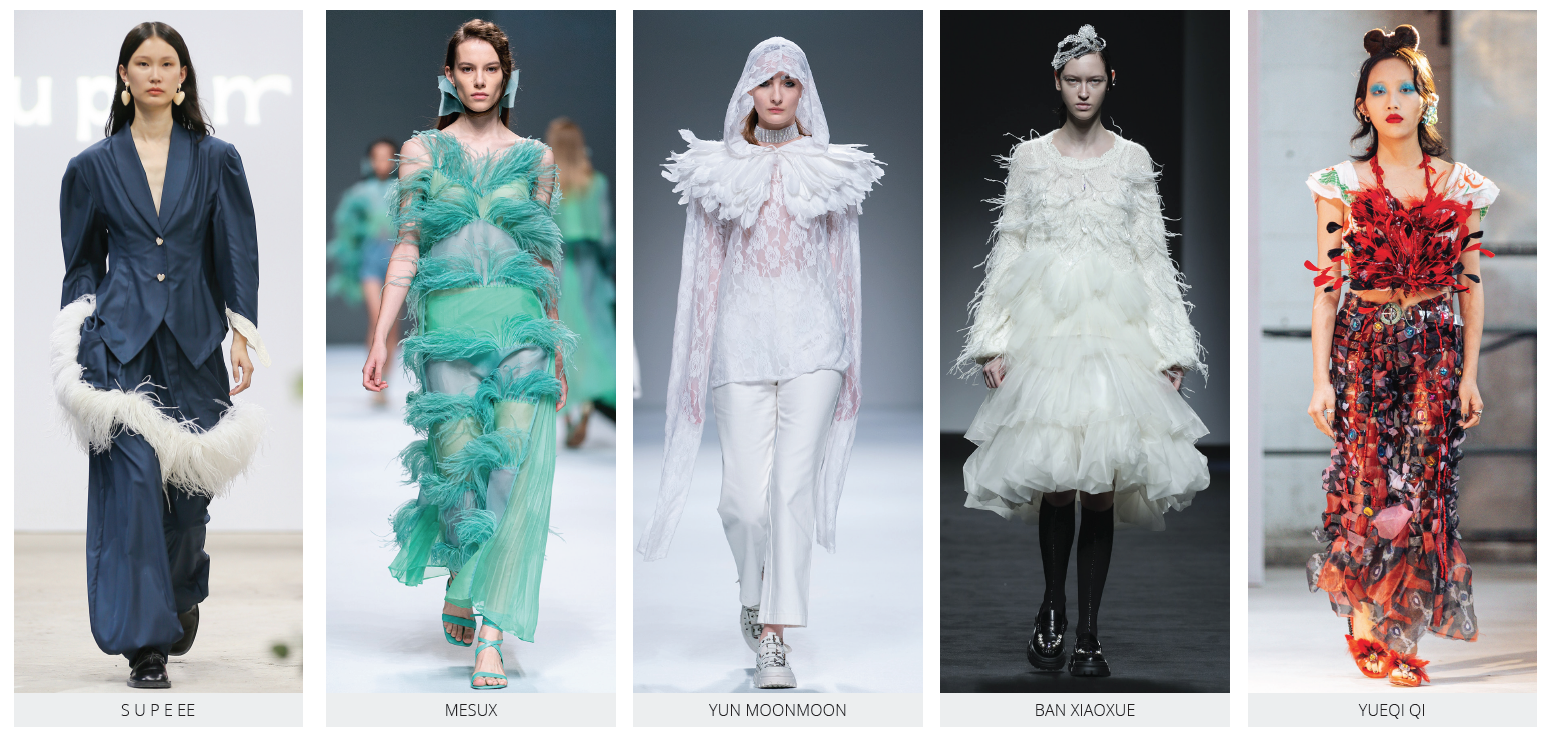 SPORTY CHIC
Sport technical details and cuts are influencing silhouettes this season, twisting evening dresses with elasticated and puffed fabrics, as well as drawstring and elasticated slogans. Nylons, cotton jerseys and elastane fabrics are renewing dressy looks into jogging-cut comfortable pieces.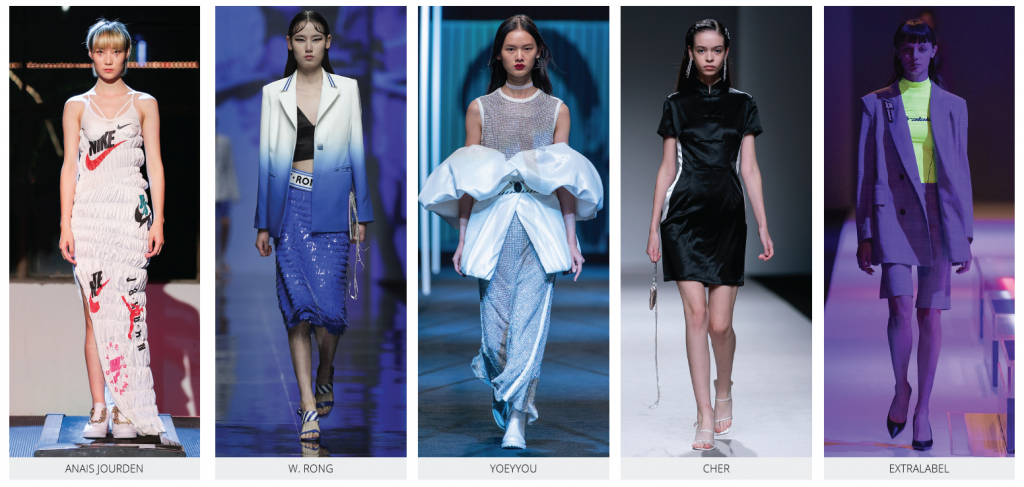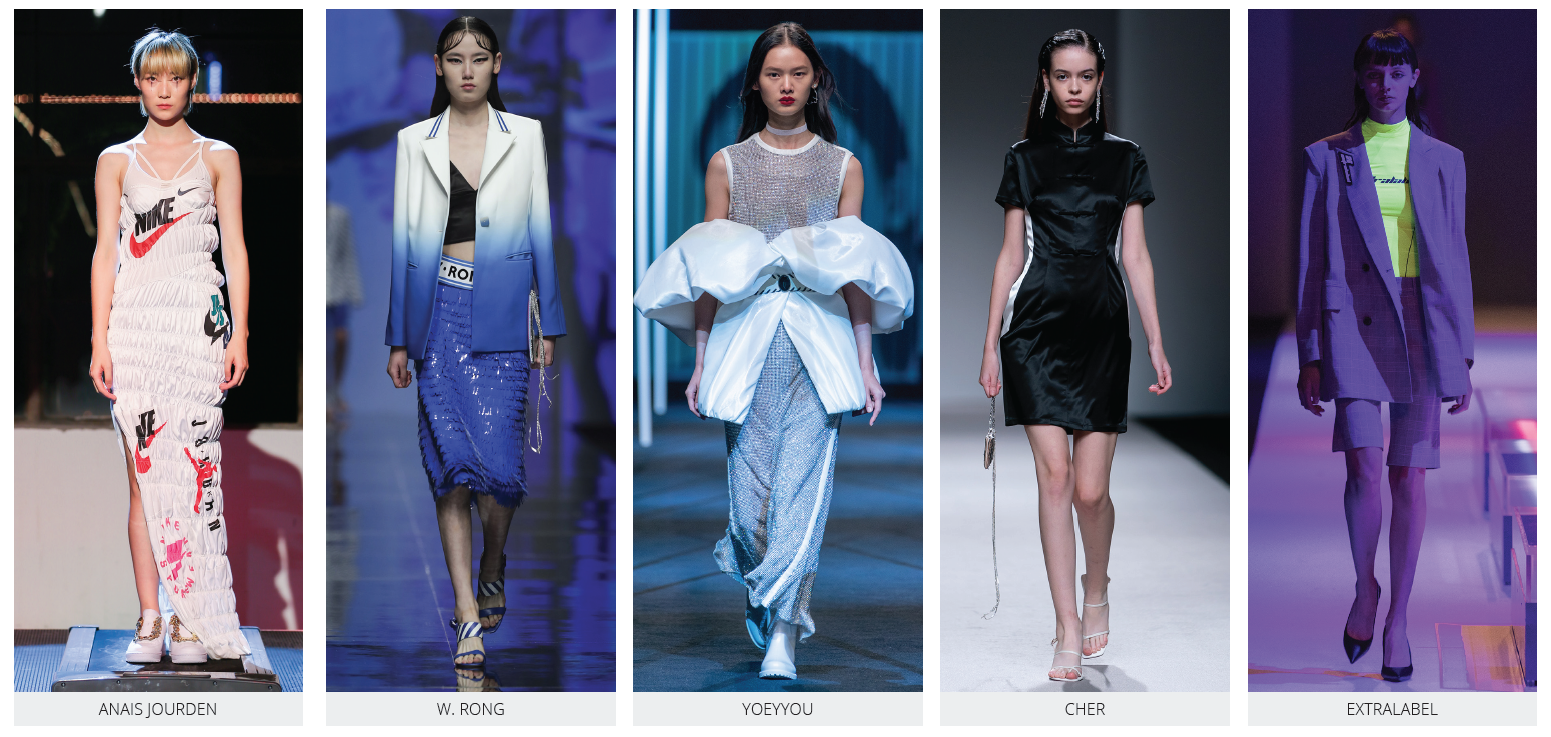 FISHNET LIKE
A modern twist with fishnet this season is showcasing fishnet dresses, as well as fishnet trousers. It's decorating garments with fringed-effect dangling ornaments, or co­ming with embedded rose flower motifs for a street-couture style.